Our History
The Episcopal Youth and Children's Services Board is the offspring of the Episcopal Home for Girls, a Savannah orphanage established in the early 1800's by fifteen women from Episcopal churches in that city.
In the 1960's the orphanage closed as it no longer met the increasing needs and challenges of the time. The proceeds from the sale of the property were placed in a trust by the board of the Home, and Episcopal Youth and Children's Services was established. The new EYCS Board expanded its mandate to include assisting youth of the diocese with educational scholarships, and camp scholarships were added as the diocesan summer camp program became more established.
What We Do Now
Episcopal Youth & Children's Services is a unique organization in the Episcopal Church that provides need-based college scholarships for undergraduates and financial assistance for children who might otherwise not be able to go to Summer Camp at Honey Creek, the Episcopal Camp & Conference Center of the Diocese of Georgia.  To date, the EYCS Trust has provided over $1,000,000 in college scholarships for over a thousand youth of the diocese, and in just the past few years, has given over $40,000 to allow hundreds of children the chance to attend summer camp at Honey Creek.
How We Raise Funds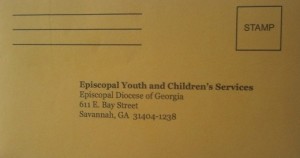 Under diocesan canon law, the EYCS conducts an annual Thanksgiving Appeal. Information is sent to each parish and mission in the diocese, and gold envelopes are provided for donations.
The Thanksgiving offering covers about half of what we disburse each year. Other monies come from various trusts, and parish and mission organizations such as the ECW (Episcopal Church Women), Men's Clubs, memorials and individual contributions.  In addition, there are safe and secure ways (Square Cash and PayPal) for those who want to donate  online using a debit or credit card.
How Can You Help
Your financial contribution helps tremendously. We welcome donations of any amount at any time throughout the year. Checks should be made out to the EYCS and mailed to 611 East Bay Street, Savannah, GA 31401-1296.
Or, donate safely and securely online using a Visa or MasterCard debit card using Square Cash, which only takes a simple email or, click on the link below to use PayPal.
Watch our YouTube video, follow us on Facebook or click to learn more about the Episcopal Diocese of Georgia.