Parish priests, vestries and parish administrators will find useful resource materials for the annual Thanksgiving appeal here.
The 2016 EYCS annual Thanksgiving appeal will take place on Sunday, November 13, 2016.
Bulletin "Blurb"
Here's a "blurb" for your to put in your bulletin each Sunday in November leading up to the Thanksgiving Appeal.  Just highlight the text and copy into your bulletin or newsletter:
EYCS Scholarship Drive, 2016
Sunday, November 13 will be Ingathering Sunday for the Episcopal Youth and Children's Services scholarship drive.  This organization provides needs-based college scholarships and Honey Creek scholarships to deserving children within our diocese.  
Either use the "Gold Envelope" conveniently placed in your pew or program (make checks payable to EYCS) or go to www.eycs.georgiaepiscopal.org to donate safely and securely online.
Bulletin Insert
Here's a printable insert you can use in your bulletin on Ingathering Sunday, outlining the program and giving a success story from our Diocese:
Click to download the Thanksgiving Appeal insert.

Gold Envelopes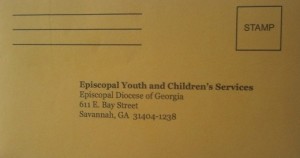 EYCS board members supplied each parish with an initial infusion of "gold envelopes".   Please help EYCS be good stewards of their limited resources, and store any extra envelopes for use in future appeals.  Out of envelopes?  Simply call the Diocesan office at (912) 236-4278 by November 1 and they'll send more!
Pay by Credit Card
Some members prefer to pay safely and securely online using a credit card. Please direct them here.
Donate safely and securely online using a Visa or MasterCard debit card using Square Cash, which only takes a simple email or, click on the link below to use any major credit card with PayPal.